Mastering Toby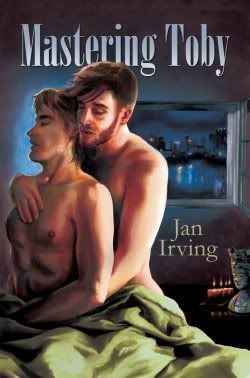 Jared Asche has secretly loved Toby Rafferty from the moment he grabbed Toby's bare ass and had pretend sex with him for the cameras on the soap Mission Bay. But Jared knows Toby is straight and just needs a friend, so he lives with the pain of unrequited love… until Toby impulsively kisses him, crossing the line between friends and lovers.
Despite his fears about being with another man, Toby pursues him, and Jared is helpless to refuse as their passion explodes during a sexy game. Confused, Jared decides to take a trip to see a long-time friend for advice, leaving an insecure Toby vulnerable to the advances of his ex-girlfriend.
Jared's hopes for life and love with Toby are crushed—but Toby's not willing to give up. He'll have to convince Jared that his intentions are serious if they're going to weather this and other threats to their newborn relationship.
I loved the character of Jared. He is both strong and highly spiritual, and he's a very dominate lover-- Tina at Two lips Reviews

Jared and Toby's story is a beautiful rendition of friendship, discovery, healing strength, and the amazing love that can come from the combination of all these things-- Mastering Toby was a Recommended Read from Jo at Joyfully Reviewed
Excerpt from Mastering Toby
Seeing Jared was safely asleep and wouldn't get mad if Toby got too close, Toby curled against Jared's larger body, staring up at the ceiling and the wavering light, relaxing only when Jared put an arm around him.
***
Something was wrong. Jared felt it before his eyes flared open. Another body, mashed against his, and he never slept like this, plastered against anyone. The only person he could remotely imagine wanting to do it with was-
Toby.
Cool air against his body where Toby had lain.
Jared rubbed his eyes, groggy, still relaxed from the grass, his penis hard from Toby's proximity. "Hey," he rasped.
Toby was bent forward, face averted. He gave a shaky laugh.
Frowning in concern now, Jared leaned forward and gently touched his shoulder, not wanting to hurt him if it was sore for some reason. "Toby, man."
Toby flashed a look at him and Jared glimpsed the bleak suffering in his eyes, as if he was fighting tears.
As Jared watched, grappling for the right thing to say, to ask, Toby stared out the floor to ceiling windows running along Jared's great room, looking out at the small bay, lights dotted like blurry oil blobs, the moon reflected, softened by cloud, yet bright enough to reveal Toby scrubbing his eyes.
Every part of him wanted to bark out a command to know what was going on with Toby. Half awake, half baked, Jared struggled to master his anger. Someone had hurt Toby.
He shifted closer instinctively, keeping his movements easy, noticing that nevertheless Toby tensed, watching him out of the corner of his eyes. Fuck it! He pulled Toby into his arms. His throat burned with a need to ask; he'd glimpsed shame and confusion in Toby's blue eyes.
"Do you ever wonder where you belong, what you should be doing with your life? I know everyone thinks I'm so easy going, but I think about it all the time. I feel like I'm traveling in the wrong direction like… that horoscope deal you talked about."
Throat tight out of concern for Toby, Jared nevertheless smiled a little. "Mercury retrograde, right. It's when Mercury the messenger appears to travel backward; it's attributed to causing all kinds of problems with people communicating."
"I feel that way all the time, man." Toby rubbed a hand through his hair in frustration. "What am I doing wrong? When I go along with people, they chip away at the things that make me happy but when I let myself think about…other shit. Scary, you know?"
"It's okay, baby. I get scared too, all the time." Circles of comfort written over Toby's back. Rubbing, not caring that he was hard and Toby had to feel it. Right now it mattered more to give solace for the wound he didn't understand but could feel in Toby.
"You don't seem like it. You seem so strong, even with the shit said about you sometimes for being gay." Toby's face crumpled. He turned toward Jared, hands clenching in his muscled shoulders, holding on. He whispered, "I'm sorry."
Jared answered, absolutely honest, "You don't need to be anything for me, Tobes. You don't have to say the right thing, do the right thing. Not with me."
Toby stared at him, the two of them tangled together like flotsam washed up on a beach after a storm. "Oh, God, Jared, you would say something like that!" He gave another odd little laugh before leaning forward and placing his lips against Jared's.
Copyright: Jan Irving
Purchase Mastering Toby in ebook HERE or print HERE.
*Sahara Blue is the stand alone spin off from Mastering Toby.
To read an excerpt and purchase Sahara Blue in ebook go here and in paperback go here.